Multiple venues in Salisbury and surrounding area now offering COVID vaccine
A number of venues in the Salisbury area are now open delivering thousands of jabs to people in the priority groups.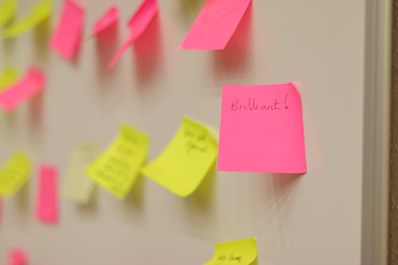 In addition to the hospital hub at Salisbury District hospital which has been delivering vaccinations since the end of December, a number of GP led vaccinations services have also begun. These include services in Tidworth, Larkhill, Wilton and at Salisbury Cathedral. And today a Large Vaccination Centre at Salisbury City Hall has opened its doors. The Salisbury City Hall site is being run by the NHS with support from the military and local volunteers.
Individuals from the top priority groups are in line to be invited to be vaccinated by both their GP and from the NHS nationally.  Many patients have already been vaccinated and others are now receiving invitations that will include the Large Vaccination Centres such as the City Hall.  Patients will be able to choose whether to have the vaccine at a Large Vaccination site such as the City Hall, or wait to be invited to a GP-led vaccination clinic, which could be more convenient. The over 70s are also beginning to be offered the opportunity to have the vaccination.
Fiona Hyett, Operations Director for Salisbury City Hall's Large Vaccination Centre said: 'A widening choice of venues in our local area means we can provide more opportunities for people to get vaccinated and administer thousands of jabs in locations that are convenient for the public.'
The NHS is working hard to make sure those at greatest risk are offered the vaccine first and people will not be able to make an appointment until they have received their invitation.
People should be aware of the following important information:
When it's your turn, you'll be contacted by letter, text or email with information on how to book your appointment. Vaccinations are free of charge and only available through the NHS. Anyone who claims to be able to provide you with a vaccine for a fee is likely to be committing a crime and should be reported to the Police online or by calling 112.  The NHS will never ask you to press a button on your keypad or send a text asking you to confirm you want the vaccine.
You need to have 2 doses of the vaccine and to go to 2 appointments. The 1st dose of the COVID-19 vaccine should give you good protection from coronavirus. But you need to have the 2 doses of the vaccine to give you longer lasting protection.
On the day of your vaccination you'll need to bring your booking reference numbers if your appointment is at a vaccination centre.  Your appointment should last for around 30 to 45 minutes.
All places that offer COVID-19 vaccinations will help keep you safe from COVID-19. There will be regular cleaning and social distancing in waiting areas. This walkthrough video of Salisbury City Hall's vaccination centre shows you what you can expect when you visit this Large Vaccination Centre - https://youtu.be/DRwLJjOnpgw
Please remember that even if you have had your vaccination, you may still be able to pass the virus on to others, so you must continue to follow all the rules and guidance. Remember: hands-face-space.
Colleagues from the military and volunteers coordinated by RE:ACT have been working alongside NHS staff.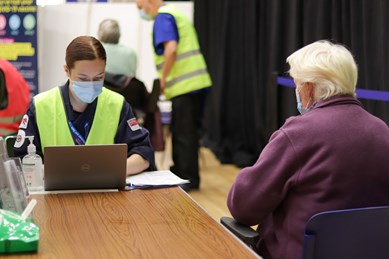 Leading Hand Megan Muirhead - Queen Alexandra Royal Naval Nursing Service, one of the military personnel supporting the site said: "It is something really positive that we have been able to come and support the NHS's mission to deliver vaccinations to the people here in Salisbury. It also feels good to be working alongside the community volunteers and NHS staff who are working so hard and successfully to achieve the goal, and I feel privileged to be a small part of that."
Richard Sharp, CEO at RE:ACT said: "We're hugely proud to be supporting the Salisbury NHS vaccination centre and it was a privilege to personally meet our volunteers on the ground and see the difference they're making. Some of the public arriving for vaccinations have been shielding for months so to have our volunteers engaging with them and helping them through the process is enormously rewarding. It's a significant moment for us, to have pivoted from an international disaster response charity to support the UK in response to Covid, to now being able to help the local community here in Salisbury on our own doorstep, and I want to thank everyone for their support."
26 January 2021