On Thursday 23rd September, Salisbury NHS Foundation Trust celebrated everything the hospital has achieved over the past 18 months, with an awards ceremony and evening of entertainment in a large marquee in the Salisbury Cathedral Close. It was a chance to acknowledge some of the incredible work of colleagues and the months of hard work and personal sacrifices staff have made to continue to support and provide compassionate care to all patients.
There were 14 awards in total, but in recognition of the impact the hospital's staff has had on so many lives in the community, two of the awards were decided from nominations by patients and members of the public. The Awards ceremony reflected the different roles the 4500 staff perform across the hospital from nursing to research, rehabilitation, estates, catering, IT and management.
CEO Stacey Hunter said: " The whole workforce at Salisbury District Hospital have been outstanding and shown great spirit, commitment and determination over the past 18 months and we wanted to thank colleagues for all of their efforts. We have seen the warmth, strength and solidarity of our local partners and community coming together and were delighted that some of our partners were able to join us on the evening. There was a real sense of joy and pride from everyone who attended and for one night they were able to relax and reconnect properly with their colleagues. Although we only recognised a very small few with an award, each and every one of our 4500 staff are winners in my eyes".
The worthy winners on the evening were as follows:
Patient Experience Award - The Breast Unit
Compassion and Respect Award - Dr Jim Baird (Paediatric Consultant)
Service Improvement, Education and Research Award - Michelle Boucher (Specialist Stoma Care Sister)
Unsung Contribution (Clinical) Award - Ness Betts (Respiratory Nurse Specialist)
Unsung Contribution (Non-Clinical) Award - Andy Scott (Informatics Performance and Release Manager) & Richard Pearce (Non-Urgent Patient Transport & Projects Manager)
Extra Mile Award - Hannah McClean (Lead Nurse End of Life Care)
Governors' Volunteer of the Year Award - Volunteers at the Hospital Hub Vaccination Centre
Outstanding Leader Award – Dr Stuart Henderson (Clinical Director for Medicine)
Team of the Year (Clinical) Award - Radnor Ward (Intensive Care Unit)
Team of the Year (Non-Clinical) Award - Housekeeping Department
COVID-19 Award – Respiratory Care Unit - COVID-19 Second Wave Response
Lifetime Contribution Award - Sandy Woodbridge (Dementia Lead Nurse)
Chair's Award - Pathology Team
Chief Executive's Award - Hannah Boyd (Head of Maternity & Neonatal Services), Ian Robinson (Head of Facilities)
The evening was made possible by the support of Salisbury District Hospital's Charity 'Stars Appeal' and Salisbury Hospital 'League of Friends'. Congratulations to all colleagues who were shortlisted!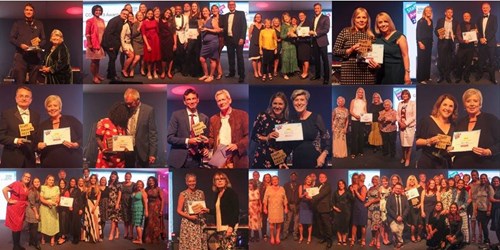 28 September 2021