The team at the large vaccination centre at Salisbury City Hall today celebrated delivering over 20,000 COVID-19 vaccination doses. A significant achievement in the fight to protect the local community against COVID. 
The centre has been vaccinating around 450 people a day since it opened.
From today (15th March), the centre is opening additional vaccination stations which will double its capacity, meaning that more people will be able to be vaccinated every day.  
When she attended the centre today Gail Pitty (pictured below) was one of the people that helped the vaccination team pass the 20,000 mark.
When asked what the vaccination meant to her Gail said: "It will mean that I will soon be able to see my family in the North who I haven't seen since November 2019. To be able to come together again will be a very special occasion"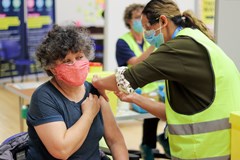 Fiona Hyett, Operations Director at the City Hall Large Vaccination Centre said: "I'm incredibly proud of the enormous team effort that has gone into ensuring the safe and effective running of this centre. Staff and volunteers have worked tirelessly to run the centre seven days a week so that our local community are offered the vaccination as quickly as possible. We've learnt a great deal and we're absolutely delighted that we're now able to increase our capacity so that we can vaccinate more people, more quickly. 
We understand peoples desire to be vaccinated and everyone is working as fast as they can. Please can people remain patient and book an appointment when contacted by their GP or the NHS national booking service. We will get to everyone as soon as possible."
For further information on who is eligible to receive the vaccination, please visit www.NHS.UK. For those not currently eligible, please wait to be contacted. The NHS will let you know when it's your turn to have the vaccine.
15 March 2021