If you're 70 or over and haven't yet had a COVID-19 vaccine, you are being urged to contact the NHS to book an appointment online or by calling 119 free of charge. Alternatively, people can contact their GP practice for an appointment at a community-based vaccination site. This push is to try and get all top four priority groups vaccinated by Mid-February. 
People choosing the national booking system will have the option of making an appointment at the vaccine clinics based at the large vaccination centres a Salisbury City Hall or Bath Racecourse, or at selected local pharmacies which are now providing the vaccine. The three pharmacies providing this service are Avicenna Pharmacy in Swindon, the Pharmacy in Ludgershall and Shaunaks Pharmacy in Westbury.
Most NHS frontline staff, care home residents and workers, and over 80s have already been vaccinated. However, if you do fall into the following categories and have not yet received your vaccine, we encourage you to come forward and book an appointment:
Older adults resident in a care home & care home workers
All those 80 years and over and health and social care workers
All those 75 years of age and over/Clinically extremely vulnerable (shielding patients)
All those 70 years of age and over
Fiona Hyett, Operations Director for Salisbury City Hall's Large Vaccination Centre said: "Across Wiltshire the vast majority of people over 70 have been contacted and invited to book an appointment.  But it important that in order to protect themselves and others against this virus that everyone in the age group comes forward to have the jab. We would like to ensure people that the process is quick and simple, there is nothing to be afraid of and any anxieties you have would be addressed at the time".
Sid, 87, discusses life in lockdown and muses what life will be like when things get back to normal. Since this video was made Sid has had his COVID-19 vaccination and encourages everyone to do the same when they're invited to.
Take a tour of our large vaccination centre here in Salisbury at the City Hall
Louis Godwin, a former WW2 RAF tail gunner said: "It's so easy. Anybody who can, should get it as soon as they can".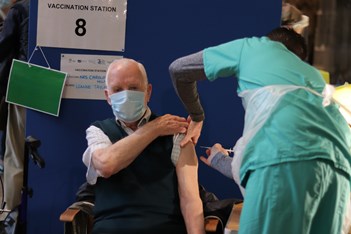 10 February 2021