January 2020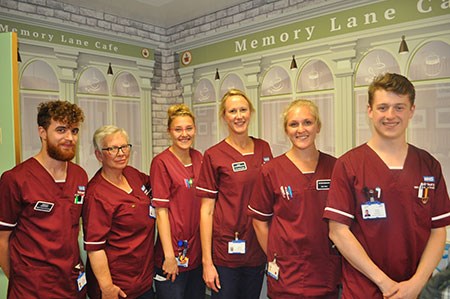 The 'Eat, Drink, Move' project on Spire ward, at Salisbury Hospital, has been formed from a national initiative. It is all about empowering patients with their functional ability, enabling them to keep as active as possible and promote an early as possible discharge home.
Within the project we have had the opportunity to share learning with our nursing colleagues for topics such as the risks of de-conditioning muscles and function, and therapeutic moving and handling of patients. This has allowed better shared multidisciplinary working and development of communication about patients function on the ward. We now have a 'Functional chart' as part of the nursing- therapy communication to hand over practical preferences for how to help patients move on the ward. This has been pivotal for the embedding of the 'Eat, drink, move' initiative on the ward. The banner, funded by Salisbury Hospital League of Friends, has allowed sharing of our best practice and the message, as a whole, to the ward staff, patients and our visitors.
Anecdotally, we have seen patients make friendships meeting up in the day room for lunch each day, clearing their plates while sitting and eating in a social, calm environment. We would hope this reflects a normal eating and drinking routine and promotes healthy behaviour to take home during their recovery. The banner, funded by the League of Friends, has been able to gently push the importance of good hydration and nutrition by giving patients and their relatives more information on menu options available and the benefits to their loved ones.
Use of the wonderful 'Memory Lane cafe', also funded by the League of Friends, has been a massive part to the 'Eat, drink, move' project and has given it its energy and momentum to proceed successfully. We have seen a huge increase in the step count and activity of patients on the ward which has a direct impact on patient care. We know that research suggests that early mobility and maintaining strength enables early discharge and reduced risk of complications, such as chest infections and blood clots. Having a communal space to go to for a social lunch setting, and activity around the 'Magic table' has been integral for the energy of the project to run. It allows for relaxation, reminiscence and the room itself a rehab environment for the ward therapists and the new nursing rehab assistants. The League of Friends funding has been vital for the creation of the day room and Magic Table, and the support for the banner was the icing on the cake. I hope that the 'Eat, drink, move' campaign brings the room to life. With the generous funding allowing purchasing of three banners, we hope to spread the ethos of the project to other wards, e.g. one of the other Elderly care wards, Durrington, where similar improvement projects are in the pipeline. Once again, many thanks to the League of Friends for their generous support with this worthy cause.
Caroline Wade-Smith - Team Lead Physiotherapist for Elderly Therapy and OPA
28 January 2021