January 2018
The League of Friends are proud sponsors of the 2018 Striving for Excellence Awards to recognise the contributions made by the outstanding staff of Salisbury District Hospital. Staff have been rewarded for their professionalism and commitment and the way in which they have improved services for patients.
There were 13 categories in all, and award nominations were made by patients, staff and volunteers, with members of the public voting for the Salisbury Hospital League of Friends Customer Care Awards.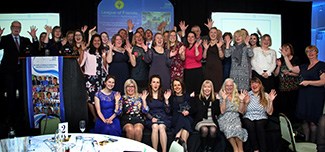 Cara Charles-Barks, Chief Executive at Salisbury District Hospital said, "Throughout the last year I have been overwhelmed by the commitment of our staff, their passion for our patients and the way in which they all work as a team to support each other across all of our services. Our awards reflect our core values and behaviours and give us an opportunity to recognise the fantastic contribution that they all make to our hospital, patients and the local community and highlight what staff are doing to provide an outstanding experience for every patient. The awards represent just a small sample of the fantastic work that takes place right across all our services each year and celebrate all that is good about our hospital and our staff. I want to thank our staff for all their efforts. I also want to thank the Salisbury Hospital League of Friends for fully funding our awards this year and their loyalty and commitment to us over so many years." 
Download the ceremony brochure (pdf) with winners and highly commended.
The award categories and winners are as follows:
Chief Executive's Leadership Award Winner - Paige Tudhope, Nursing Assistant, Farley Ward

Paige has for some time been leading the way as she repeatedly goes above and beyond to provide dying patients with compassionate and dignified care up until and after their deaths

Chairman's Outstanding Contribution Award Winner - Katie Ransby, Sister on Chilmark and Amesbury wards

Katie provides exceptional leadership to two busy wards, managing over 60 staff and 56 beds. Katie is dedicated, exceptional and inspirational, always wanting what is best for her patients, staff and relatives

Unsung Hero Award Winner - Joanne Hembury, Aseptic Pharmacist Manager

Joanne is an exceptional senior pharmacist, fantastic role model and leader, who selflessly shares her enthusiasm and experience with staff. She has been the driving force behind the service for the last 29 years

League of Friends Customer Care Team Award Winner - Radnor Ward

The team received several nominations supported by heart-warming personal stories. One said, "I have never met such a wonderful bunch of people who go beyond their roles"

League of Friends Customer Care Individual Award Winner - Leigh Blake, Sister on the Neonatal Intensive Care Unit

Leigh was nominated by several patients. One said, "She was always cheery and knew just how to support them. She was supportive without being intrusive. She was amazing and a massive credit to the hospital"

Living the Values Award Professional Winner - Keith Loader, Security Management Specialist

Keith faces difficult challenges daily, but always carries out his responsibilities in a highly professional manner – treating staff, patients and visitors with respect

Living the Values Award Patient Centred and Safe Winner - #EndPJParalysis Team

The #EndPJParalysis therapy team was instrumental in developing a campaign to encourage patients, where possible, to be up and out of their gowns and pyjamas to improve their rehabilitation and wellbeing

Living the Values Award Friendly Winner - Directorate Management Secretaries

This team consistently goes above and beyond their role and the support and value they offer is extensive. They provide a vital link to the rest of the hospital and make all visitors feel welcome and informed

Living the Values Award Responsive Joint Winners - Intensive Care Unit Rehabilitation & Follow-Up Team (RAFT)

The Intensive Care Unit Rehabilitation team has always been innovative by establishing new services to support patients during and after their time in the unit and is ahead of many larger hospitals in the country.

 

Michelle Bray (Senior Physiotherapist) and Claire Newton (Nurse Practitioner)

Michelle Bray and Claire Newton are true ambassadors for their work around fit testing, which plays a key role in our infection prevention and control procedures

Living the Values Overall Winner - Heidi Killoran, Diagnostics Systems Manager (Radiology)

Heidi spends her own time learning about new technology and working with suppliers to develop systems that allow us to share imaging across the health community where she he has an excellent reputation

Governor's Volunteer Award Winner - 'Lofty' Waterman, Volunteer Guide

Lofty is an outstanding volunteer. He is always reliable and completely dedicated to helping others. He is friendly, adaptable and caring and has a massive impact on everyone he comes into contact with

Equality and Diversity Award Winner - Martin Plastow, Security & Car Parking Officer

Martin is an invaluable member of the team who was nominated for the sensitive and caring way in which he managed a large group of relatives in public areas who were visiting a family member on a ward

Challenge Award Winner - Informatics Team

The team introduced the largest IT project ever carried out by the Trust and despite challenges and difficulties the team worked consistently hard in work and home time to find innovative solutions

Mentor Award Winner - Michelle Clem, Staff Nurse on Sarum Ward

As a mentor, Michelle helped develop students' confidence and development and used the nursing values (known as the six Cs) to help embed new skills and create time for reflection on good nursing practices
Nick Marsden, Chairman of Salisbury NHS Foundation Trust said, "This year staff have continued to provide the very best care that they can for our patients. These awards give us an ideal opportunity to acknowledge the enormous contribution our staff have made to local health services and I'm proud to able to give them the recognition that they deserve for all their efforts.
28 January 2021