We have therefore added some very special events in our calendar this year that were open to everyone (our local community, partners, colleagues, patients, family and friends).
---
Salisbury Cathedral Service
Thank you to everyone who joined us at Salisbury Cathedral, or listened on Radio Odstock on Monday 26th June 2023, for the historic service held by the Trust and the Cathedral to mark the 75th anniversary of the NHS and 80 years since the US Army opened a hospital in Odstock.
The service also marked the final move of the old city centre Infirmary to the Odstock site as Salisbury District Hospital 30 years ago, and the 70th anniversary of Radio Odstock, the hospital's radio station, which is run by volunteers.
The service included Wiltshire poet Saili Katebe's first reading of his newly commissioned work that looked at how the faces in the hospital and the community have changed over the past eight decades. Salisbury District Hospital's poet in residence Martin Figura also read his commissioned work, a poem about the history of the hospital.
Led by the Dean and Cathedral clergy, with members of the Trust's Chaplaincy, the service also included Salisbury District Hospital staff and volunteers reading prayers and new prose by playwright Paula B. Stanic about the volunteers. A very special thank you to our prose readers: Sandra Grihault, Thara Thomas and Jane Podlinski: and to our prayer readers, Pampha G-Thapa, Shaddahra Jain, and Jane-Frances Ubalua.
If you couldn't make it or listen at the time, you can listen to it here. BBC South Today had a report, which you can watch here (11:40-16:14)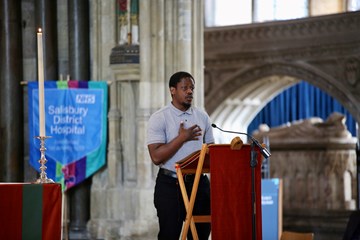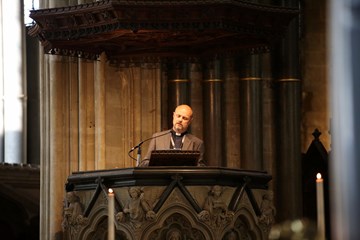 ---