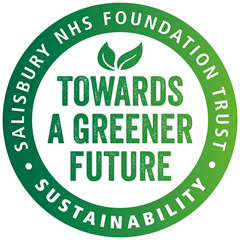 The NHS is responsible for 4-5% of the UK's carbon emissions and 3.5% of all road travel; at the same time, climate change is recognised as having a negative impact on health, exacerbating health inequalities. 
Climate change poses a major threat to our health as well as our planet. In October 2020, the NHS became the world's first health service to commit to reaching net zero carbon, in response to the profound and growing threat posed by climate change.
Net zero means achieving a balance between the greenhouse gases put into the atmosphere and those taken out. To achieve this aim requires us to balance the amount of greenhouse gases we emit with the amount we remove. When what we add is no more than what we take away we reach net zero. This state is also referred to as carbon neutral.
Our Green Plan 
Here at Salisbury NHS Foundation Trust we recognise the important role we have in helping to reduce carbon emissions and improve sustainability. We want to provide high quality care today whilst being a sustainable organisation that is fit for the future.
The quality of our environment has a direct impact on our health. Through engagement and partnership working we will transform our environmental impact and make a positive difference on the health and wellbeing of our staff and the population we serve.
Our Green Plan sets out a framework for how we will reduce the impact of climate change, embrace 'green' learning and innovation and support the NHS to deliver a carbon net zero healthcare system, by 2040. 
You can read our Green Plan in full here:  
"Our Green Plan is our commitment to reduce our impact on the environment and put us on a path to deliver a cleaner, greener, healthier and more equitable future." Stacey Hunter, Chief Executive Officer.
There are 9 areas that we will be focusing on to make the Trust more sustainable in everything that we do as shown below. We will update the sections so keep checking back for updates and ways you can get involved to support the Trust in being a sustainable organisation that is fit for the future.