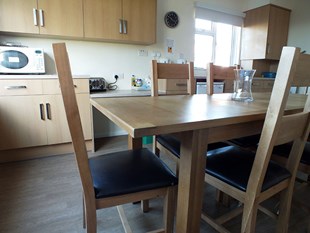 To commemorate their 60th Anniversary, the League of Friends embarked upon a major project to modernise their two on-site bungalows. Patients and relatives who live a long way from Salisbury District Hospital and need short term accommodation can now benefit from the £200,000 refurbishment, which includes the fitting of new flooring, furniture, kitchen and en-suite facilities to the bungalows.
The League of Friends bungalows were originally built in 1980 and 1994, to commemorate the 25th and 40th anniversaries of the founding of the League of Friends in Salisbury. Since their construction the bungalows have been heavily used and appreciated by relatives of inpatients needing emergency accommodation and, more recently, to help patients travelling from afar for specialist treatment and rehabilitation.
The refurbished bungalows were officially reopened in January 2016 by President Elizabeth Batten and Graham Annetts, son of the League's founder Ray Annetts. The two buildings are now named the "Annetts and Batten Rooms", in recognition of Ray and Elizabeth's loyal support during the past 60 years.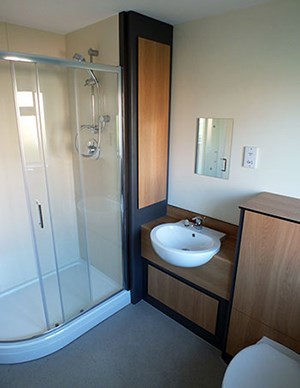 Accommodation
Each bungalow has a fully fitted kitchen, lounge and six en-suite twin bedrooms. There is a small charge to cover the running costs of the bungalows, but if you would like to make an additional donation there is a facility to do this within each bungalow.
A room can be booked via the Ward, please inform the nursing staff that you are in need of emergency accommodation. N.B. The bedrooms are twin bedded en-suite rooms, so you could be sharing with another relative. The bungalows are open 365 days a year and due to the high demand the bookings are taken on first serve basis.
Our supporters
The League of Friends is extremely grateful for the significant sponsorship and individual donations which have enabled the bungalow refurbishment project to achieve a successful completion. Major sponsors include the Stars Appeal, ITU, The Spinal Injuries Unit and The Wessex Rehabilitation Unit, as well as The Salisbury Independent Hospital Trust Limited, Hurst Financial Consultancy, Wilton Rotary Club and The Dun Valley Singers.