About League of Friends
The Salisbury Hospital League of Friends are the people who donate money regularly or volunteer their time to support the work of Salisbury District Hospital and local health care facilities by supplying comfort and help to patients and their relatives through the provision of facilities and equipment not available through NHS funding.
Since 1766, when a hospital in Salisbury was first established as the 'General Infirmary', the developing medical care has benefitted numerous people in Salisbury and the surrounding community. Since 1954, the League of Friends of Salisbury Hospital has been proud to contribute to and work for the general welfare of local patients.
Today, health care facilities in Salisbury still have an excellent reputation, despite fast moving developments and changes in society, the NHS and medical science. Our aim, as supporting friends of Salisbury Hospital, is to continue to help where we can, and ensure that, in the 21st century, we can remain as proud as ever of our local hospital. Read more about us
---
These are some examples of what your donations have achieved
◆ £20,000 for a double bedroom in the Neonatal Family Accommodation Unit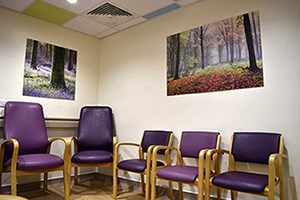 ◆ £50,000 contribution in 2013 to fundraising for the second CT scanner organised by the Stars Appeal
◆ £130,000 towards the refurbishment of our bungalows to provide accommodation for relatives of patients with critical conditions
In addition, there are a host of smaller projects such as adding finishing touches to the new Surgical Assessment Unit shown in the photograph. Since its foundation the League of Friends has raised well over £2million.
Scan our news page to see the difference we make.
---