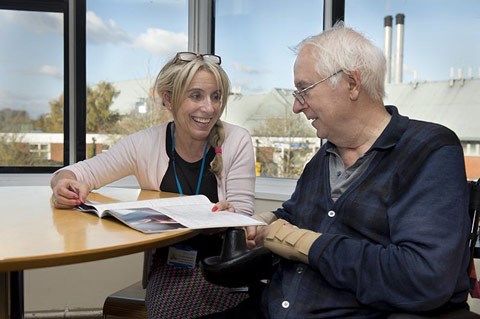 If you are interested in volunteering with the Stars Appeal Engagers please email enquiries to sft.engage@nhs.net
The goal of the Stars Appeal Engagers programme is to support the psychological wellbeing of older adults in hospital by alleviating distress and preventing depression and anxiety. These conditions have a detrimental affect on general wellbeing and are associated with slower physical recovery and increased time spent in hospital.
The Stars Appeal Engagers Programme is comprised of team of dedicated, specially trained volunteers who support our older adults on a one-to-one or group basis on a weekly basis throughout the year. Our Stars Appeal Engagers provide cognitive and social stimulation with a variety of interventions such as talking and listening, reminiscence therapy, patient-led discussions, reading newspapers, magazines or books, memory puzzles, crosswords and so on.
As well as providing these interventions, many of the Stars Appeal Engagers support the team's research, training and recruitment, which is vital to the continual development and expansion of the service.
The Stars Appeal Engagers Programme is funded by the donations made to the official hospital charity, the Stars Appeal.