The Emergency department Paediatric Department at Salisbury NHS Foundation Trust is prepared to tackle Coronavirus and will look after your children should they need hospitalisation. The most up to date information about Coronavirus (COVID-19) can be found on the NHS website.
COVID-19 is a virus that can affect your lungs and airways. Children seem to be at lower risk of severe infections but due to the virus being highly contagious, it is essential that the condition is treated seriously and all advice followed.
If you are concerned your child has symptoms or lives with someone who has symptoms, please refer to the NHS website for advice.
Admission to hospital
If admitted to hospital with suspected Coronavirus, staff might wear personal protective equipment (PPE) and children will be kept isolated. PPE can be scary for children so they may need reassurance. The picture by Dr Clarissa Chase may help: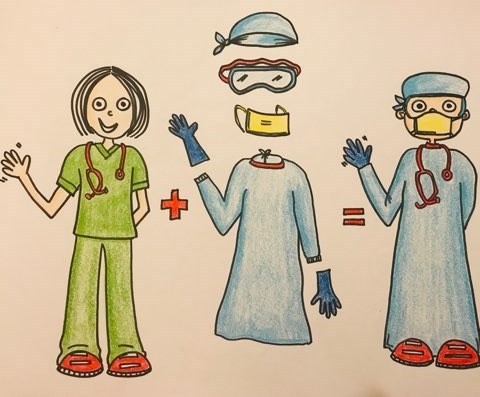 To minimise the spread of infection, only one parent will be able to stay with your child and no other visitors are currently allowed. Parents can swap if required but we request that this is limited. Free Wi-Fi has been provided by Stars Appeal charitable funding and is available via the Cloud. We encourage you to video-call and virtually visit if possible.
We have divided our children's inpatient ward, Sarum, into two areas to ensure patients with suspected Coronavirus are looked after separately to patients requiring admission not due to infection. To limit the number of people in hospital, there are currently no catering facilities for visitors.
For our Neonatal Unit, only one parent can stay and no other visitors are allowed (including siblings).
Changes to Appointments
We are conducting many of our outpatient consultations via telephone or video appointments. Some non-urgent appointments may need to be cancelled but you will be informed should this be the case.
Please do not come to the hospital if you or your child has any symptoms suggestive of Coronavirus. Please follow the guidance provided on the NHS website.
If a face-to-face consultation is required, we request that the child is accompanied by one parent/carer only.
Further Coronavirus Resources
What parents need to know about Coronavirus (Healthier Together)
Coronavirus disease (COVID-19): What parents should know (Unicef)
What to do if you're anxious about Coronavirus (Young Minds)
Coronavirus: How to protect your mental health (BBC News)
Coronavirus: Your questions answered (Newsround)
Talking to kids about the Coronavirus (Child Mind Institute)
What is the Coronavirus? - Social story (The Autism Meducator)
Talking to children about Coronavirus (The British Psychological Society)
Coronavirus and UK Schools Closures: Support and advice for schools and parents/ carers (The British Psychological Society)
Coronavirus workbook for children (Mind Heart)
Living with worry and anxiety amidst global uncertainty (Psychology Tools)
Helping children cope with stress during the 2019-nCoV outbreak (WHO)
FACE COVID - how to respond effectively to the Corona crisis (Dr Russ Harris, The Happiness Trap author)
Dave the Dog is worried about Coronavirus (Nurse Dotty Books)
Chronic Fatigue Syndrome advice (Action For Me)
Diabetes advice (Diabetes UK)
Coping with a crying baby - ICON (Hampshire CCG Safeguarding)
Important – Other Illness
If you are concerned your child is sick, please do seek medical attention without delay as described by the RCPCH president Professor Russell Viner: